Missed the 2016 MCV Newsletter in the mail? Read it here on the blog. Read more stories from the newsletter here.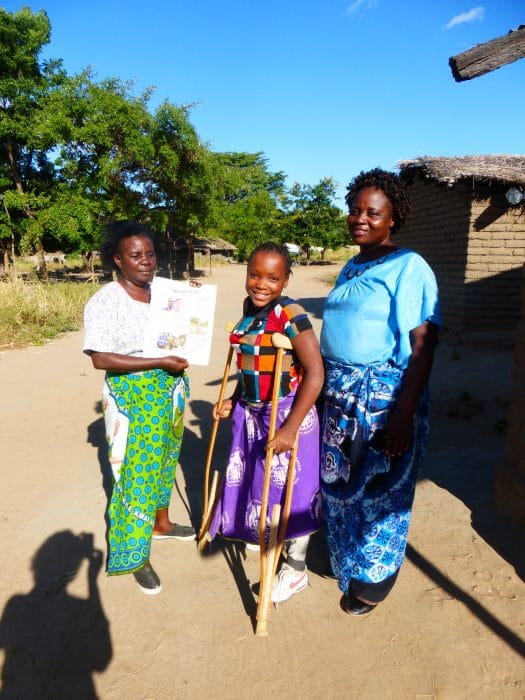 Catherine Shabani (left) who joined in 2005 and Florence Kondwani (right) who joined in 2002 have both been providing care and support in the villages served by MCV for
more than a decade.
The heart of MCV is with our Village Outreach Coordinators, Catherine Shabani and Florence Kondwani.
Florence learned resilience at an early age when she became an orphan herself at the age of three, losing both parents on the same day in her home of Dedza. She and her seven siblings were raised by varied aunts and uncles, mostly separated from each other. Following completion of secondary school, she took a Community Development course and began her life-long work in social services. She has coordinated and developed many HIV/AIDS education programs for individuals, groups and organizations.
She lost her husband when her daughter was two years of age. Florence kept her spirit going by giving to others, continuing her efforts in community awareness programs. MCV paid for Florence to further her education in a one year social welfare training course. She learned specific skills for child protection and family reconciliation, as well as increasing her knowledge in early childhood development, gender equality and women empowerment.
Catherine's early childhood with her seven siblings was in Zomba and Mulanje. Following secondary school, she became trained as a Health Surveillance Assistant. In her first job with Save the Children she supported pregnant women, encouraging pre-natal care and distributing condoms. She assisted on home deliveries and supported newborns to ensure they received vaccinations and proper nutrition. She also provided education about HIV/AIDS. She then worked with a project distributing bed-nets and encouraging their daily use, followed by a number of years with a Community Health Partnership project, funded by USAID. Here her duties continued with the support for the health of pregnant women and child nutrition, now encouraging mothers to go to hospitals for their deliveries. She would also take chlorine to people for safe water and disease prevention. Further work with Safe Motherhood and Hands in Hands continued her ongoing education in the villages for safe and healthy lifestyles. In the course of all this work, Catherine raised her seven children, mostly as a single mother. Her resilience matches Florence's.
The combined skills of Catherine and Florence allow the Village Outreach program for MCV to be strong and focused, providing education and support to orphaned and vulnerable children and their families. Their skills are used daily in visits to the 38 villages in the catchment area for MCV. The bars of soap they may provide are like bars of gold. The people in the villages await their visits. They are dedicated to help the people in this small area of Malawi live a better life. They are empowered women, sharing their lives and opening their hearts to those who appreciate their care, support and resilience. Catherine and Florence are truly the heart of MCV.