Missed the 2014 MCV Newsletter in the mail? Read it here on the blog. Below is our village profile piece on Chipoka I. You can find other stories from the newsletter on our blog here or access the complete newsletter in PDF  form on our print media page.
As longtime donors know, MCV is NOT an orphanage. It is a village- based orphan care project. This means that aside from the infants living temporarily at Open Arms – next to the MCV campus – the orphans and other vulnerable children supported by MCV live with their extended families  or other care givers in one of the 38 villages in MCV's catchment area. Our "Village Profiles" series is designed to give our readers a bit of the flavor of each village.
Chipoka 1: The official story is that several decades ago, the village of Chipoka grew so big that it was decided to divide it in two. (There are several apocryphal stories regarding the split, but these will be left for another day. As will the profile of Chipoka 2.)
A distinctive feature of Chipoka 1 is that the village chief is just one of five female chiefs in the 38-village MCV catchment area. She is an imposing figure – five feet, eight inches and of "traditional build" – but with a warm and disarming smile. She watches over almost 2,000 villagers like a mother hen, and is particularly attentive to the care of orphans.
She wisely chose two excellent volunteers – Stanford Mangani and  Beatrice Mwamadi – to facilitate the identification, placement and ongoing care of orphans within the village, all in coordination with the central staff of MCV. With support from the chief and MCV, the village volunteers oversee the care of 99 orphans in 51 households.
They make sure that 90% of school-age orphans attend school on a regular basis, one of the highest percentages among MCV's 38 villages. They are also attentive to the needs of preschoolers (and pregnant women), all of whom receive and use insecticide-treated bed-nets, eliminating malaria as a cause of death in these groups for the past four years! And growth studies in preschoolers show not only that orphans are growing as well as non-orphans, but also that both groups in Chipoka 1 are in the top tenth percentile among all the villages.
Chipoka 1 is on Lake Malawi and surrounds Nkopola Lodge, a premier tourist destination on the lake. Thus, the villagers have traditionally had more contact with "Europeans" than most others. Many have employment at the Lodge, and others have pursued carving and other crafts to take advantage of the tourist trade. In fact, Stanford is not only an acclaimed carver, but has taken on numerous apprentices, many of them orphans, as part of his dedication to improving the village economy.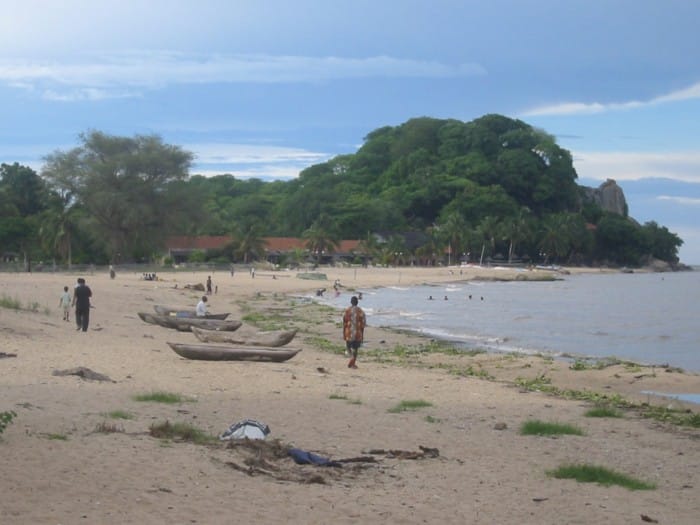 Tourism has suffered in Malawi due to the troubles in Zimbabwe. Thus, even with its fortunate location, Chipoka 1 remains desperately poor. There would be no way for the village to care for 99 orphans without the assistance of MCV. And MCV could not help Chipoka 1 without continued assistance from generous donors. When we last saw Stanford, he said, "Please thank the donors for making life possible for our children. May God bless them as they bless us."
Village Level Support:
Donations of any size go to the direct support of villages such as Chipoka 1. However, we have three levels of major support:
Ng'ona (crocodile) $1500 level would sustain a small village.
Mvuu (hippopotamus) $2000 level would sustain a mid-sized village.
Njobvu (elephant) $2500 level would sustain a larger village.