Missed the 2015 MCV Newsletter in the mail? Read it here on the blog. We'll be sharing other articles from the newsletter on the blog in the coming weeks. Find more newsletter articles here. 
For Malawians, catastrophes are often just around the corner.  They come quickly, a child that dies overnight from Malaria, or they develop slowly to affecting large segments of the population. Both happened this year!
What started as a normal rainy season, increased in intensity accompanied by a relentless wind from the south that lasted for 18 days and nights. Catastrophic flooding struck the country. The estimates now are over 300,000 Malawians displaced.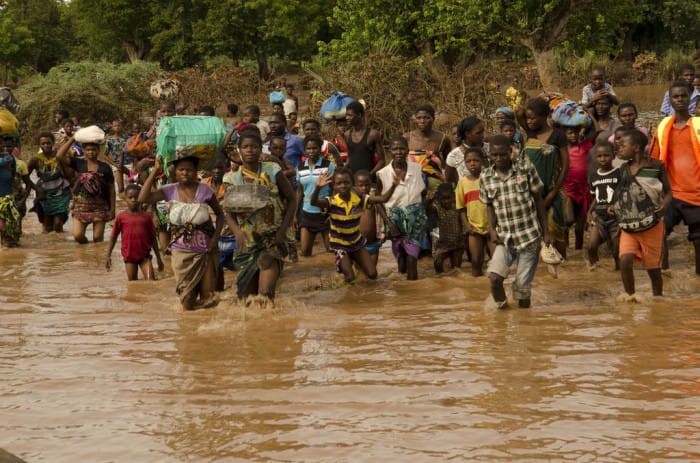 Around the villages of MCV there was major flooding in the low areas, but it was the constant wind driven rain that devastated the village homes. Sun dried brick or mud smeared on both sides of bamboo frames work as walls if you have a decent thatched roof with long eaves to protect them. The eaves do not protect the mud walls when the rain is horizontal. As we drove south, along the highway there were scores of walls collapsed and houses destroyed. Further down the Shire River in the lowlands of southern Malawi, villages became lakes and homes simply dissolved. This was the overnight catastrophe.
But the most profound effect is slower to develop: the loss of the maize crop. The United Nations predicts that  a majority of village households will be in food shortage crisis between October and December this year.
Most Malawians live in a rain dependent subsistence culture. You must grow food, catch it, or you don't eat. Small maize fields are attended to just after sunrise by village women throughout the growing season. In most places there is no irrigation. Maize can be raised once a year if the rains come at the right time, are the right amount and last a sufficient length of time. This does not happen very often! In fact the period from December through mid-March is known as the Njala (hunger) season.  Almost every year at this time there are greater or lesser amounts of hunger. This year's Njala will be great.
The story has a human face. When we were in Malawi this May our neighbors were already short of food. Felix Chirombo, MCV's director is a good farmer with a large farm.  It is usual for him to harvest forty to fifty 50 kg (110 lb) bags of maize.  This year he harvested five. Most of our neighbors harvested two bags or less. Dry maize, ground into a flour and cooked, is the staple in Malawi, eaten every day of the year.  A family of eight will use two bags a month.
Like the catastrophes that strike, MCV responds both quickly and with slow developing solutions. In the long-term,  irrigation programs help farmers be less dependent upon unpredictable rains. Educational programs such as School-to-School, Gracious, and university scholarships help orphan graduates and others find employment outside of subsistence farming.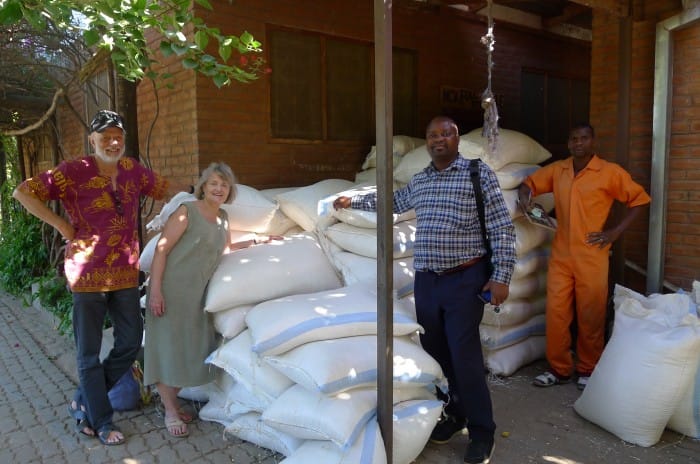 In the immediate term we're preparing for this year's food shortage. In response to skyrocketing prices (an approximate 50% increase by November) – an impossible price hike for any villager, MCV has stockpiled more than 10,000 lbs of maize.
Villages houses are also being built. In May, volunteers donated money for materials and got their hands dirty. A week's worth of hauling bricks, digging foundations, and building walls and a house was built. Others from the US have simply contributed the dollars and the Malawian crews have done the job. Six houses have been built to date.
Do a few houses and a few thousand pounds of maize make a difference?  It does not solve Malawi's national disaster, but for the 37 villages that make up MCV, the difference is real.  It is one village house, and one family at a time.