Missed the 2015 MCV Newsletter in the mail? Read it here on the blog. We'll be sharing other articles from the newsletter on the blog in the coming weeks. Find more newsletter articles here.
Board Member Mary Pomeroy, a Physical Therapist, has been working to support those with special needs in the MCV villages. Below is a brief update from her trip to Malawi this past April.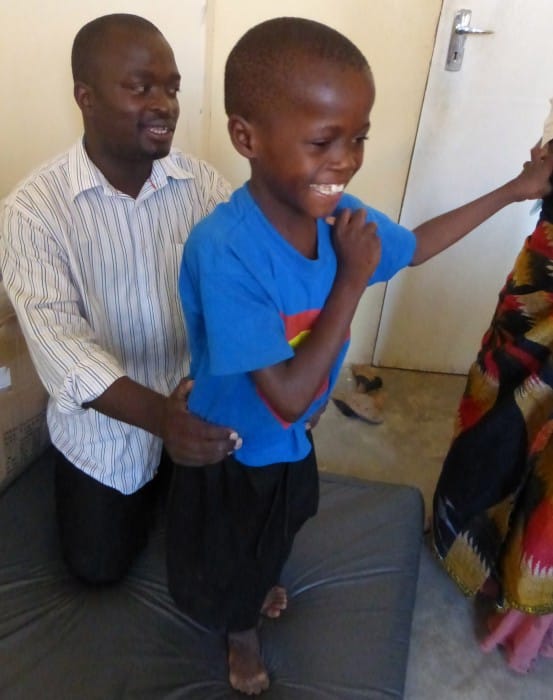 Gift works with a young patient
My training with Gift, the physiotherapist from Mangochi Hospital (about 15 miles away from MCV), is ongoing. I spent a day at the hospital's Cerebral Palsy Clinic, training and educating both Gift and the parents of over 40 children. When I began working with Gift three years ago, his training in pediatrics was limited; his experience was more with adults, although being the only "physio" at the hospital, he provided services to all ages. He is a quick and energetic learner and now is engaged in coming to the villages within the MCV area every month to help Catherine, the MCV Outreach provider, who follows these children throughout the year.
Many of the children need adaptive equipment for support in sitting or standing, or require wheelchairs for mobility. The prison in Zomba (three hours away) makes the wheelchairs; Gift measures and follows up on getting the wheelchairs to each child. The carpentry section of the vocational program at MCV makes adapted chairs, standing frames, and metal walkers with wooden wheels for the children in need.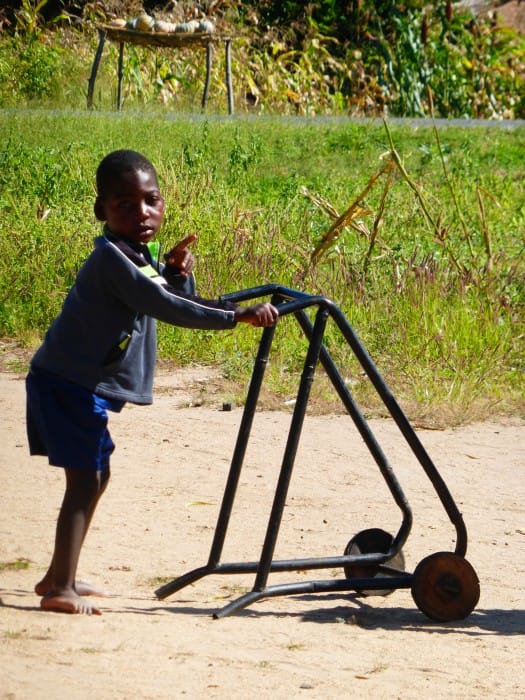 A young boy in the village uses a walker provided by MCV
There are now over 50 children with special needs that are being followed by Catherine at MCV. Children get the equipment or services they need to enjoy being mobile or positioned well to play or eat. Many are now going to school since they are independently moving. Ramps are being made in the schools, as needed, to improve accessibility for them.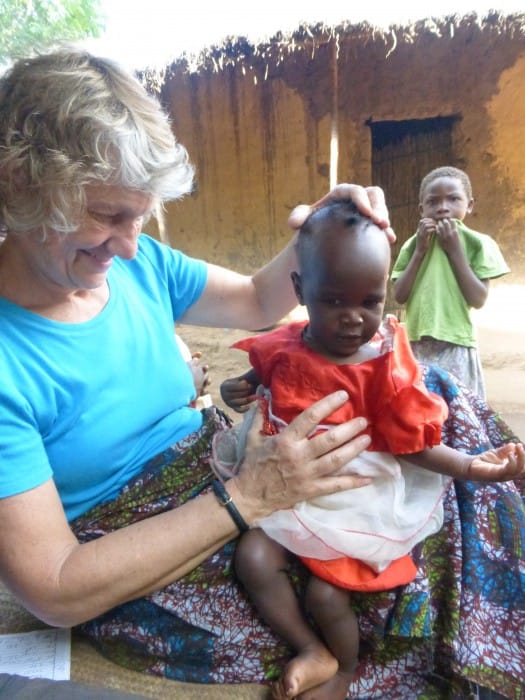 Mary Pomeroy examines a young girl in an MCV village