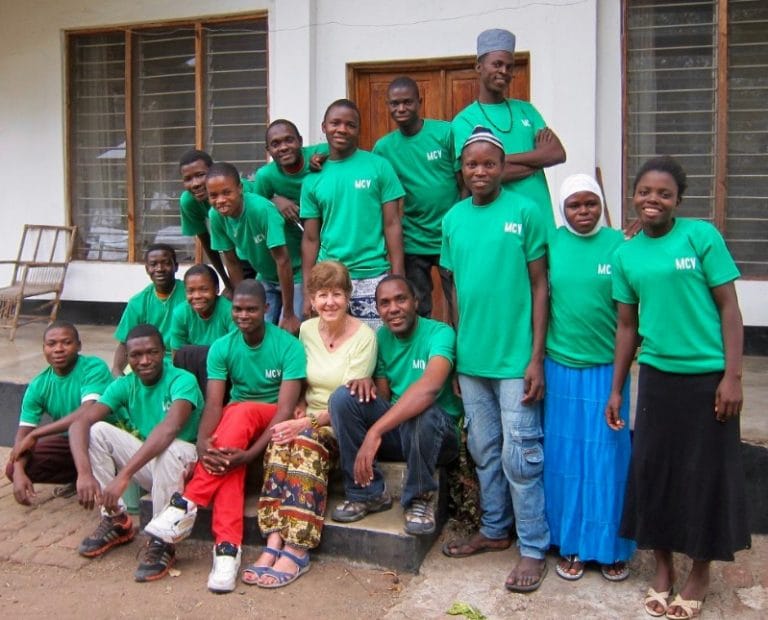 What a great first week we had in Blantyre. Ayami forgave me for oversleeping that first day, after a 30 hour journey, but then we were off on a shopping spree for fabrics and supplies for our project. Over the years we have developed a loyal group of friends in the business world in Blantyre, always ready to help us with finding sources for the materials we need.
The craft items we make have become a major part of income for our business. We use the zitenje, colorful cotton prints, and the only manufacturer in Malawi had a great supply at this time. So much fun, we bought yards and yards. The heavier cottons in ethnic prints had not been produced for more than a year now; we really need those fabrics. Maybe some shopkeeper had some stock left; we did not give up and asked everywhere. Finally it was: "let me give my brother a call", and there it was, this brother had bought up the whole stock when the factory stopped producing. We hit the jackpot! We take the minibus home with Stefano; he runs a daily round trip service from MCV to Blantyre. We arrange to go to all the places where we have made our purchases and they fill up the whole floor under the seats as well as all the space in the back. At the bus station I am greeted by "Hey baby"; they remember "the azungu" (white lady) from previous years. I love the lively scene, all the vendors and the hustling for passengers that goes on. When the minibus is full, we take off. All the passengers are sitting with their feet up because of all our baggage. The trip is four hours, but nobody complains; it is the Malawi way of travel.
How exciting to see all the kids in the program again. They are all wearing a shirt they have designed, proud of a uniform, proud to belong. Many text messages are coming in from our kids now working in South Africa. What a welcome! All the machines are humming, the kids are sewing and a happy chatter goes on. Ayami works on layout and cutting, James is teaching, and I am working out new pattern designs. Yes, for the next 3 months I am home.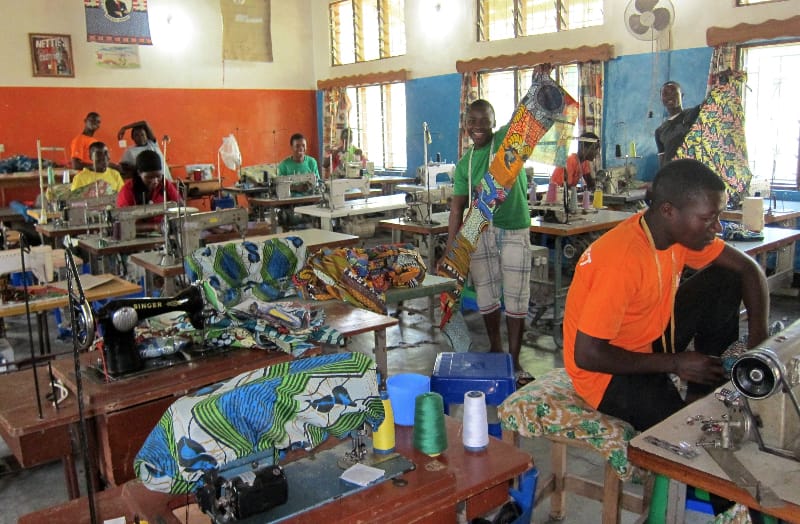 Power outages
The training of new students starts on treadle machines. Using those machines and being able to do basic repair on them is very important, since that is what they will be using as tailors in the village. At the workshop they move on to the industrial machines, which are much faster. These special machines give a professional finish – quality work that our project is known for. We can really produce a lot in one day. This year our big problem is electricity; it is very unreliable and now is off for many daytime hours. The kids bring all the treadle machines out on the porch and the sewing continues. The charcoal iron is put into use. The girls cut small items that need hand cutting; all the leftover pieces of fabric are cut into sizes for patchwork. It is quite a scene working outside. The sales of our products and the labour charges for the work- clothing and uniforms are what pay the wages of our kids; we need to have a good daily output. The cutting is done in quantity in a layout at least one inch thick, but again that needs electricity. I am off to Blantyre to look into generators, meanwhile Ayami borrows a unit to try out at the workshop. We find that the capacity has to be very high in order to run the industrial machines. The MCV director, Felix Chirombo, has been involved in the whole process and suggests that we buy the diesel fuel and they will run the large MCV generator as needed. We immediately put this to the test and $25 of diesel gives us 6 hours of power. Meanwhile MCV has power as well, so we all benefit. This is affordable only on days when we really need the production going. Another problem temporarily solved!
Fabric sold out
Going back for more zitenje fabric, we find a very small stock on the shelves; the only Malawi manufacturer has run out of chemicals for the dyeing and has no idea when it will be available again. Ayami runs to the bank and takes out the money to buy the whole lot. Better to have the extra fabric supply, we cannot risk running out. Our next big sales are to several groups of high school students from England, doing summer projects. We sell many of our craft items and make shirts and Happy Pants, they love to choose the fabric and have the pants custom made for them. With cash in hand, Ayami goes to the big fabric market in Lilongwe (four hours away), the zitenje there is imported from Tanzania. He comes back with loads of beautiful fabrics and our kids cheer. Three weeks later the Lilongwe market burns down. No colorful fabrics available anymore! This is doing business in Malawi, you never know what hurdle comes up next; it keeps us on our toes. Our stuffed elephants and hippos have become a great seller, something as simple as finding the stuffing for that becomes an adventure.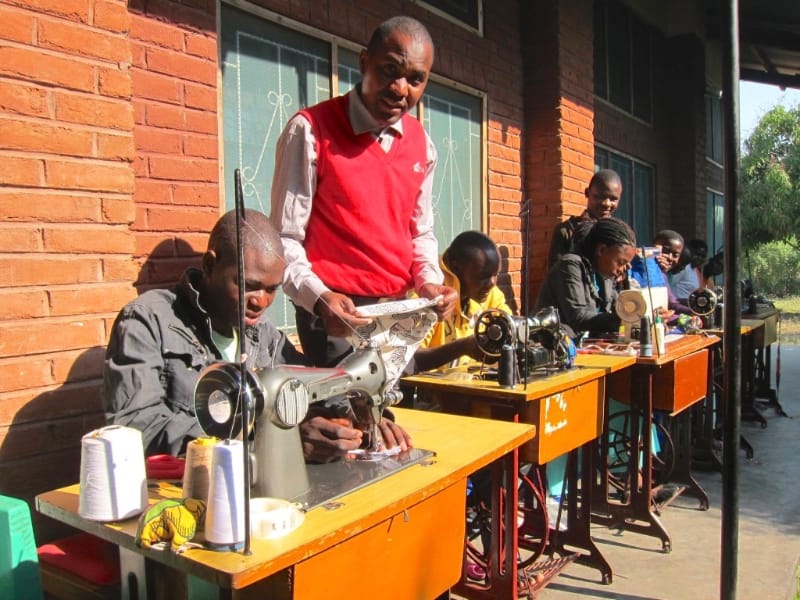 Subject: You are amazing!
Ayami the manager, now with the sewing project for 12 years, keeps everything running all year long. I love working with him, I learn from him all the time. He never gives up and is a wise and caring person. This exchange between my son Ian and "his brother from another mother" says it all.
Sincerely, your "brother from another mother",
Ian Graulich
——-
Thank you so much my brother. You know what brother, we are so blessed for having our beloved Mum. I born with little heart ♥ some how, but My Mum Professor taught me so many things that's why I manage to be called a blessing in our project. Thanks once again to you brother and those who are supporting us. Otherwise it would have been too difficult for us to handle all the challenges we are going through in our training school project. May God reward all of you. We can dream comfortable when we make people smile. The attached pictures are some of our boys and girls smiling after making their lives better.
Ayami (your African Brother)
Read Nettie's full PDF report here.