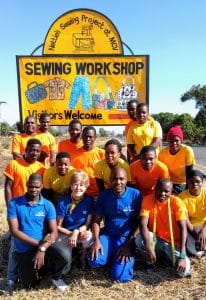 This year my report is a picture story. The yearly reports are to show you how the project continues to make a difference in many peoples lives and how your contributions over the years help us do so much more than just being a sewing project. All year long Ayami, the Sewing Project Manager, keeps the program running at the highest level. I visit every year for 3 months and leave, always knowing that the project is in excellent hands.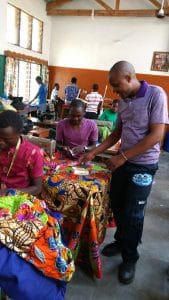 We found a new supply of colorful fabrics while at the bus station in Blantyre. Surrounded by all the vendors, we bought through the window of the bus until we ran out of money. Last year fabric shortage was a big problem, this time we have plenty of options.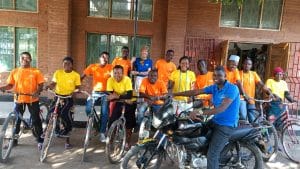 All the kids have a bicycle to commute to work and a treadle sewing machine at their homes to make extra "freelance" money.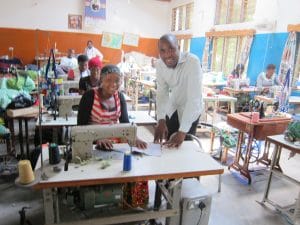 Grace has spina bifida, but she can use her legs to run the sewing machine. Special arrangements have been made for her to attend the program. Bicycle taxi brings her and picks her up daily. A wheelchair is provided to help her get around.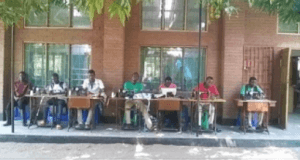 Our biggest ongoing problem is the shortage of electricity in Malawi, not just for hours at a time, but for many full days. With no power, we cannot use the industrial machines. We sew what we can on the treadle machines and do hand sewing. The ironing is done with charcoal. We are known for our high quality work, which can only be done on industrial machines, it makes planning our production a challenge. But Ayami and his team get it done, even if they have to work on weekends.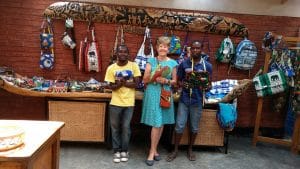 **OUR NEW SHOP** The handcrafts have become our main source of income. We have the best retail stores in the country as our wholesale customers. Our shop was just a corner of the workroom. A dream came true for me this summer – we added an extension to the building. All involved love our sewing program and worked hard to get it all done before I left. A 4' canoe became a beautiful display piece. We now have a beautiful shop to display our handicrafts for our wholesale and retail customers.
Please see the full report with more photos here: Nettie Malawi Report 2017 (PDF)