Missed the 2016 MCV Newsletter in the mail? Read it here on the blog. The Article below was written by Mary Pomeroy and Frances Vitaglione. Read more stories from the newsletter here. 
As longtime donors know, MCV is NOT an orphanage. It is a village- based orphan care project. This means that aside from the infants living temporarily at Open Arms – next to the MCV campus – the orphans and other vulnerable children supported by MCV live with their extended families or other care givers in one of the 38 villages in MCV's catchment area. Our "Village Profiles" series is designed to give our readers a bit of the flavor of each village.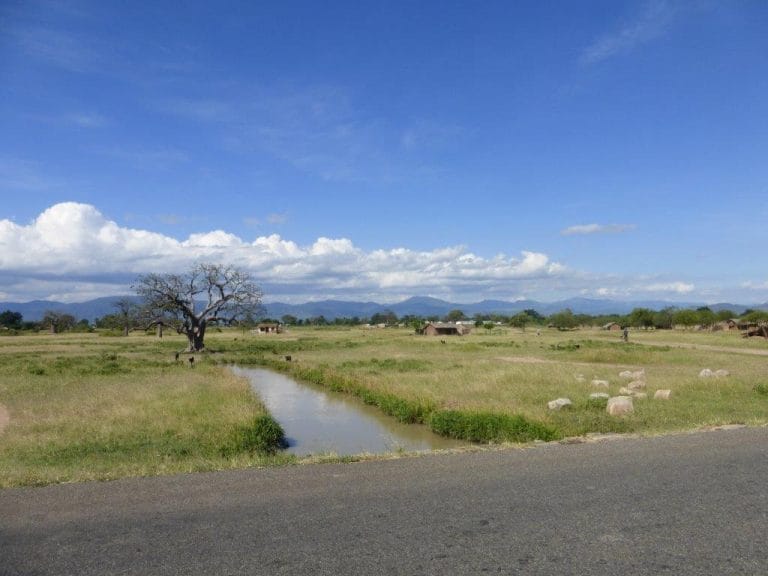 Samama houses can be seen in the distance from the main road.
Samama Village is laid out flat between the road to Mangochi and Lake Malawi. Being close to the road has advantages. It is easy to get there (except in the rainy season when being low and flat means ankle deep mud.)
Samama boasts a full primary school including a two classroom block with Headmaster's office and two latrines, all built by MCV. When last year's solar light project installed a light in one of the classrooms, the workers came back at night after the first day's installation to see if the light was working. They found the classroom already full of students studying!
Of the 42 orphans in Samama Village, 36 are school age. MCV supplies school uniforms and five are on scholarship at Gracious Secondary School at MCV.
The village economic base is fishing and subsistence farming, with two irrigation schemes supported by MCV with 25 farmers participating.
This past year MCV also provided 24 bed-nets to mothers with infants to help prevent malaria.
The Samama Village headman is Stefano Mwaliwa. His two Village Volunteers are Mike Msosa and Moses Jere. (Note: There are two Village Volunteers in each of the villages supported by MCV.) Since the beginning of MCV, almost 20 years ago, Mike has been an MCV Village Volunteer. He particularly notes the assistance provided in the areas of education, health and food security.
Mike says he has benefited personally through increased knowledge (MCV has a monthly training for volunteers) and incentives such as bicycles, tires, and monthly stipend.
Samama is just one of the 38 nearby villages that continue to benefit from the association with MCV and from your generous donations.