LIKUNI PHALA: A STAPLE FOOD
Fry ½ bag soy beans, add ½ bag ground nuts, 3 bags maize meal. Mix and grind all together and what do you have?
Likuni Phala! A staple peanut butter paste for babies and infants who are malnourished. This food is now made at MCV and provided to the young children who need it within the MCV catchment area.
Njala is the term used in Malawi to describe a year of hunger which, sadly, has been every year recently. The 2018-2019 season has been better than most and thankfully we are nearing the end of the Njala season with the maize harvest to start in April. With the assistance from donations, MCV is able to support orphans and vulnerable children and the families that care for them with both maize and Likuni Phala. Likuni Phala is necessary for survival and this simple peanut butter paste can help children survive!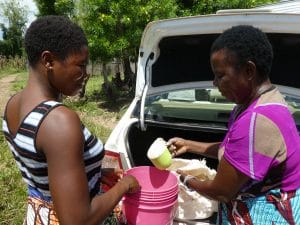 Women making Likuni Phala to distribute. 
Any donations to MCV help these babies and infants survive another Njala season.
Zikomo or thank you!