Hunger strikes almost every year in Malawi. When it comes, it is known as the njala season. (Njala means hunger in Chichewa.)
Every year, there is great hope that there will be a good crop season with the right amount of rain. Unfortunately, every year for the last several years there has been famine that starts as early as August and lasts through January or February.  The price of imported maize skyrockets and is well beyond the reach of the villagers who live in a largely subsistence society. Each year, with your help, we are able to secure maize ahead of time at reduced costs. This maize is distributed to MCV orphan guardians and their families.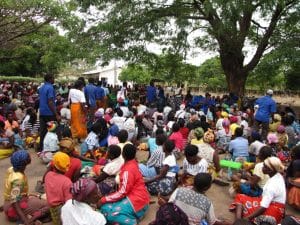 This is a picture of the distribution of the maize to all families keeping MCV orphans in all the villages in the month of November and beginning of December.  With the coming in of the rains, guardians will use some of the maize for planting.  Families are very thankful with the relief food.