Below is an excerpt from Nettie Graulich's Annual Report on the MCV Sewing Project.
At the Blantyre bus station we wait until the minibus is filled with passengers to take us on the 4 hour trip to Malawi Children's Village (MCV). The bus station is like a walking shopping mall, vendors coming around selling all kinds of items like pens, hard boiled eggs, blankets, sunglasses, and drinks. I love the scene. I am looking for a newspaper; since I have no radio or TV, I have no idea what is going on in the world. The paper is only a few pages long and half of it is sports. When I passed the paper on to Ayami, he asked me how I got it. I said, "I just bought it." It was Friday and it was last Monday's paper – well it was all news to me. OK, I am in Malawi and nothing is a surprise.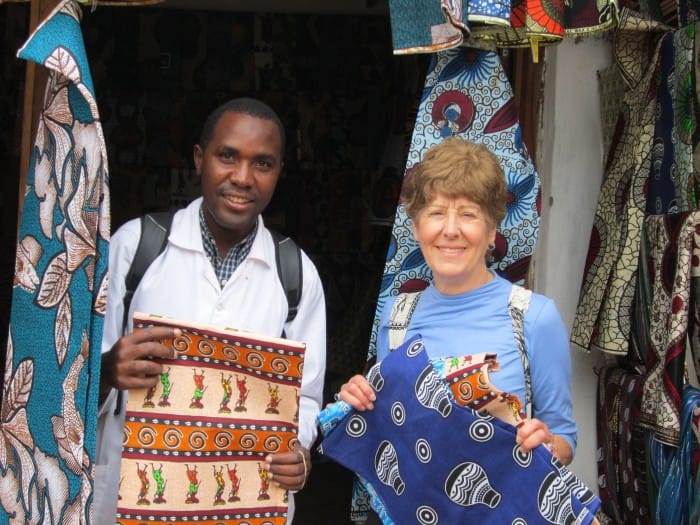 Nettie and Ayami – the leaders of the MCV Sewing Project
To get from my house to MCV I have an old Land Rover to use. The horn does not work, the seat belts are just laying across for make believe, the mirror keeps vibrating out of place, the left turn signal does not work – I am a real road hazard, but it gets me there.
The project has steady work all the time. When I arrive they have just finished a large order of patchwork bedcovers and place mats for Sandra, owner of The Makokola Resort, our biggest customer.  Meanwhile Ayami (the manager), with his best workers, is finishing an order of uniforms for the employees of a large private school. Complicated patterns,
lots of piping and details. Another job well done. They are now working on school uniforms for the different schools we supply for September classes.
I am very pleased with the quality of the work. The new trainees who started last year are doing excellent work. Our standards are high; we have assessments every three months. The training is free, and then as they have enough experience to take part in production they start getting a daily stipend. The wages are based on experience. We discussed the importance of saving, but leaving them on their own, that did not work. Now we have a savings plan for all. Each decides how much to put away every 2 weeks and we keep it for them in the bank.
The setup in the program is really working well now. We have a core group of our best trainees, who are now on regular payroll. They have been with us for two or three years; they are the best workers and help with the training. They also are provided with a treadle sewing machine at their home, so they can do "freelance" work. Their example of work ethic and excellence is what has brought the whole workshop to a better standard. Ayami can totally trust his workers to carry on when he has to go out on sales calls. This year we bought Ayami a motorbike, which has made his job much easier.
Last year we promised James and Rajabu a house, which they now deserve. They have been busy making bricks. We hired a carpenter to make the framing for doors and windows and they started building. James burned his bricks, so he will have a more permanent house. James is assistant manager and has turned out to be the teacher that the new trainees prefer, so that will be his job. James (left) is on the permanent payroll and will stay indefinitely. He comes from very far on the bicycle, but is there every morning on time at 7am. We got him a good mountain bike to make the commute easier. James is the second born in a family of 7 kids, no father.
We asked how we can help him with anything and he said, "I am afraid we don't have enough maize until the next harvest". At the New Year we give all the kids a bonus, a bag of maize for their families. We already have bought the maize at the current lower prices and will have extra to help out during what they call in Malawi "the hunger season."
Issa and Hassam came as young 16 year olds, but we knew immediately they were born to be tailors. At the time, Ayami said that it was nice to get good students while so young, so we would have them for a longer time. They are now 20 and joining their friends who have gone to South Africa. We know they will do very well, but we will miss them a lot.
Read the rest of Nettie's Report here.