Mary Pomeroy, a current MCV board member, entered Malawi shortly after Cyclone Freddy hit. Here is the second in a series of her experiences.
Time is different, grief is the same. My husband Mike, our younger son Kyle and I have returned after a 3-year hiatus, the pause a result of Covid. It has been 15 years that we have been coming to Malawi. After so many trips familiar faces greet us each day, welcoming us back to our second home.
The recent Cyclone Freddie has flattened houses and wiped out their crops. Food is limited, people are hungry. Their time each day is helping out their family members, finding something to eat and waiting for the next day. Our time each day is with a roof over our heads and food to eat. Grief is the same. Sadness. Loss. Heartache. Worry. Despair. Their resilience facing grief is remarkable. It is what they hold on to each day and the next day.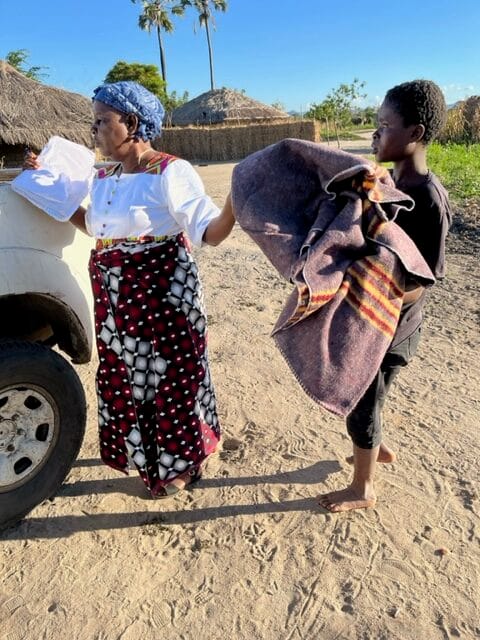 As a MCV BOD member, I am helping to distribute 25 kg of maize flour and blankets to families in villages, at the same time that I visit families with children with Special Needs, my program efforts as a pediatric physical therapist. Malnutrition is more evident now and there is the concern for increased malaria with wet ground from the rains being breeding grounds for mosquitos. Children under 5 are more susceptible to malaria and at a higher risk of scary complications with the disease.
There are 2 volunteers for each of the 39 villages in the MCV area. During their monthly meeting, I thanked them enormously for their help for people in their villages. They are helping to identify the families who have lost their houses and / or crops. MCV is moving forward with donations to begin building new homes for those impacted. In the Vocational Program at MCV, bricks are being made and frames for doors and windows are now ready for these village houses. These volunteers are the heartstrings for MCV.
Last week I visited a mother and baby with special needs. She has 6 additional children. Catherine, one of the 2 MCV Outreach support personnel, translates for me that her house is in rubble and she is now living in nothing more than a quickly built stick house that can't even hold her entire family. Her crops are gone. She has nothing except her family, a smile, resilience, and now the help of MCV.