Missed the 2016 MCV Newsletter in the mail? Read it here on the blog. Read more stories from the newsletter here.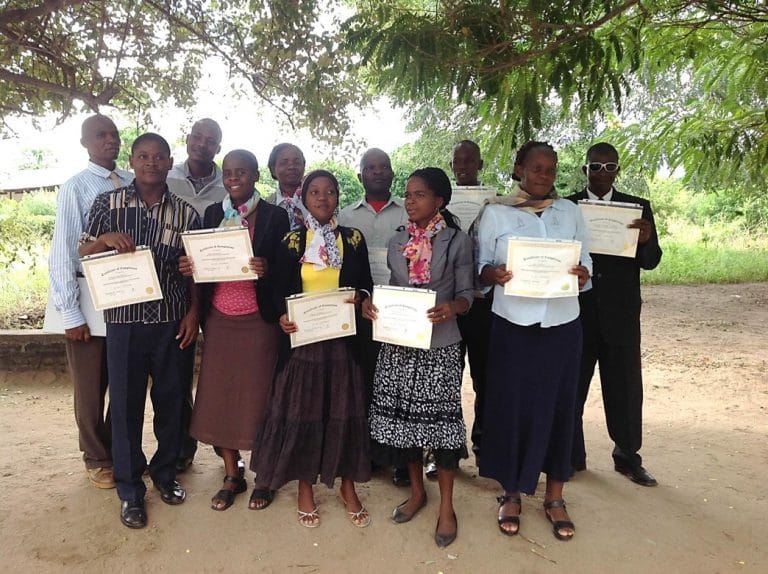 Teachers pose with their certificates after completion of the SEE Program Training. Teams of two will implement a new after-school program in MCV area primary schools during the next year.
"You treated us as equals, and you did it with love."
This comment from Gladwell, a primary school teacher in Mangochi district is perhaps the greatest gift I received in working on the Student Empowerment and Education (SEE) Program at MCV in April, 2016.
I led a three-person Vocational Training Team to MCV, as part of a grant from the Rotary Foundation. The SEE Program project was sponsored by the Rotary Clubs of Limbe (Malawi) and Kansas City Plaza (Missouri, USA). Working in cooperation with MCV and the Light Foundation, the project installed solar lighting and study resources in schools and trained primary school teachers in an after-school program designed to empower children, especially girls, to stay in school.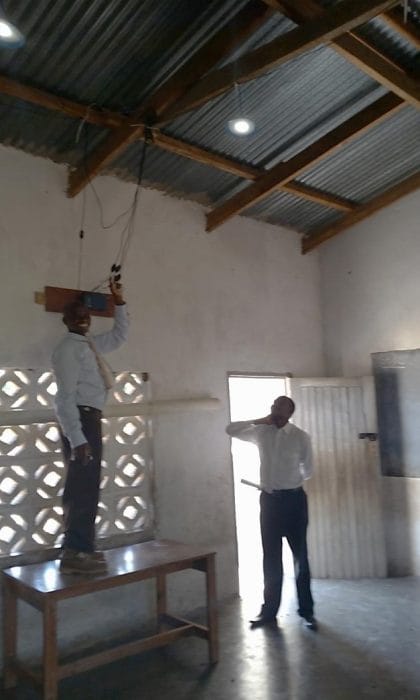 Gladwell shows off a new Solar powered light.
We worked with ten primary school teachers. Together, the teachers and trainers collaboratively reviewed the curriculum for the program and the teachers refined it so that it was culturally and age appropriate for their students. The teacher training took place over five days.
While the training was taking place, The Light Foundation installed solar panels at eight primary schools with assistance from MCV staff members Vincent and Austin. Study materials and desks constructed by the MCV Carpentry and Joinery program were also installed at the schools.
The participating teachers received certificates of completion in their SEE program training, and officially took ownership of the program in a ceremony officiated by MCV Executive Director Felix Chirombo. Over the next school year, teams of two teachers will implement the after-school program in five of the primary schools serving villages in the MCV catchment area.
Malawian children, especially girls, face several challenges along their path to an education, including early marriage, teen pregnancy and HIV/AIDS. In a country where the World Bank reports average annual income of about $255 per capita, tenacity is more than an admirable trait. It's a survival skill.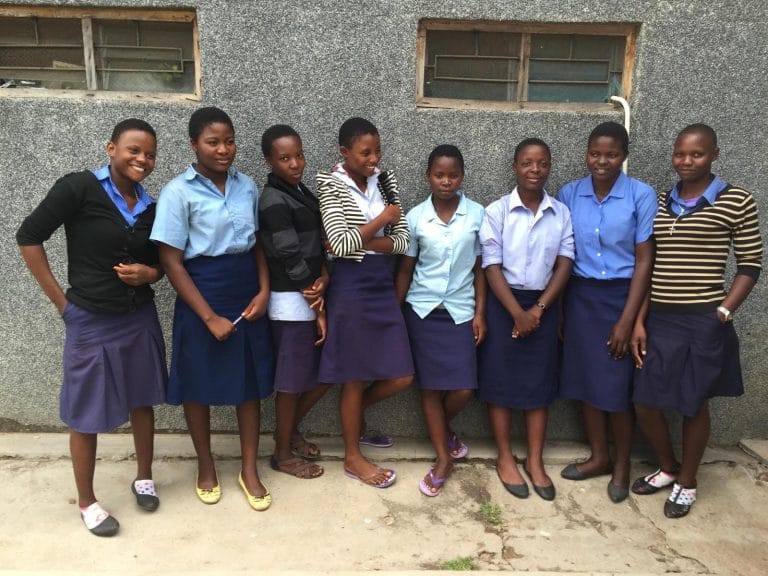 The SEE Program focuses on empowering girls to stay in school.
Multitasking: Village girls learn how to multitask from their mothers, walking barefoot several times a day from the village water pump with 70-pound buckets of potable water on their heads, babies on their backs, and another child or two by the hand. I saw village girls supervising younger siblings while pounding maize, herding goats, and trying to get homework done. These girls exhibited a tenacity that humbled me.
Tradition: According to a United Nations Development Program background paper on Malawi, 47 percent of girls finish standard 8 – the equivalent of the 8th grade. Family influences, the tradition of early marriage and teen pregnancy can easily discourage a girl's plans for the future.
Role Models: I met dozens of girls who told me they aspired to become businesswomen, doctors, nurses or accountants. Most had never had an opportunity to meet women working in those professions. The village girls who succeed in getting an education are the future role models for other village girls.
My experience this past year has given me a global perspective on the value of girls' education. With tenacity, encouragement and the support of MCV and its donors, it's my hope that the girls of Malawi will reach their aspirations.
Zikomo to: The Rotary clubs of Limbe and Kansas City Plaza, Steve Huff of the Light Foundation, fellow trainers Bill and Cindy Schmidt, Felix Chirombo and the MCV staff – and especially to the extraordinary teachers who now guide the SEE program.