WOMEN'S EMPOWERMENT
The Women's Empowerment (WE Club) was started in 2015 by girls at Gracious Secondary School in an after-school program to enhance girls' confidence with debates, morals, and education. They subsequently asked for funds to purchase extra books plus a locked bookcase, and to provide tutors after regular school hours so they could increase their academic standings.
Ruth Nighswander held a small fund raising program for women in Alaska to provide the funding needed to begin the program. Mirror Lake Middle School in Chugiak, Alaska raised on-going funding by selling smoothies prior to the start of their school day. The next project was to obtain funding for T-shirts & sanitary pad bags (washable pads, soap, plastic bags, monthly calendar & outer bag) sewn by the MCV sewing project on campus.
Caroline Matkom, a current MCV Foundation board member, was able to obtain a series of large grants through her work as a member of the University of Wisconsin's Project Malawi Student Club that sustained and expanded the pad project & and included post-secondary scholarships for women graduating from Gracious Secondary School who qualified for entrance to university or professional schools.
In 2021 what started as a modest program has now expanded to 90 girls in the Women's Empowerment program. The pad project now includes all of the 252 girls attending Gracious Secondary School.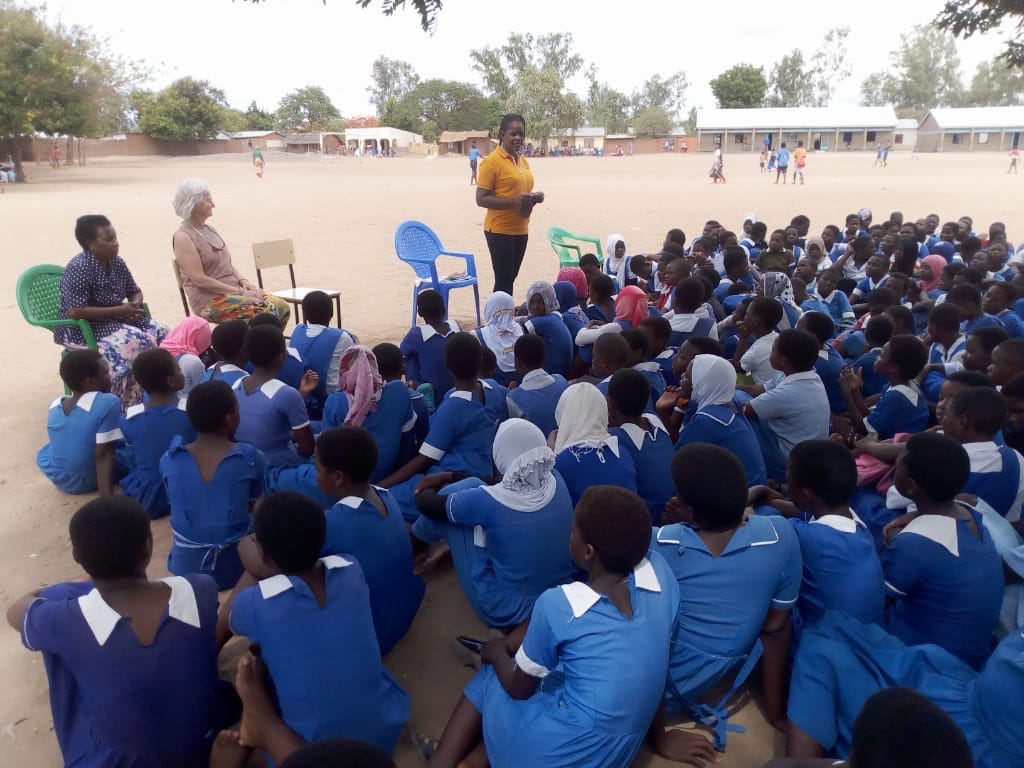 EDUCATION AND TRAINING
Primary School Projects
Clearly, education is the ticket that breaks the chain of poverty. The earlier a child is exposed to quality education the better the future is likely to be. Though true for all children, those who are orphaned at an early age and those who are otherwise vulnerable through disease, handicaps, and those in extreme poverty are the most affected. From the early days of the Malawi Children's Village, education has been a top priority.
In Malawi, elementary school (the first 8) is free. All children can attend. Unfortunately, these elementary schools are often understaffed, oversubscribed, and poorly equipped. It is not unusual to have 100 first and second graders in one classroom with the two classes with their backs to each other. Many schools have neither desks nor benches for the children to work on. Typical critical teaching equipment and supplies, like paper, pencils, and blackboards are often either lacking or nonexistent. Some of the school buildings have no roofs. As a result, little learning occurs.
The school system in Malawi is parallel to that in the USA: 8 years of primary school (our grade school) followed by 4 years of secondary school (our high school). However, in Malawi only 35% of elementary school students complete their education on time and only approximately 16% of these children go on to secondary school. Thus for every 100 students who begin primary school only 35 complete all eight years. Of those 35 students, in Malawi only 17% enroll in secondary school. Thus, of the 35 student leaving primary school only about 6 will begin secondary school. In secondary school (our grades 9-12), there are two national exams, the MSCE exams. The first is administered to all secondary school students completing the first two years. Those who fail this exam, about half the students who take it, do not go on to the final two years – meaning only about 3 students who began elementary school will complete high school. But that is even optimistic. There is a further "leaving exam" after a student completes Form 4 (our senior year), and the national pass rate is around 50%. The stunning result is that only 1 or 2 of those beginning elementary school will successfully complete all 12 years with what for us would be called a high school degree. This compares to the comparable 88% successful high school completion rate for the American students who enter Grade 1.
In the MCV "catchment" area (the area served by MCV) there are 8 primary schools. Ruth Nighswander, a former mid-1960s Peace Corps Volunteer with her husband Tom, began a program in her home city of Anchorage, Alaska, to pair 6 of these 8 village primary schools in Mangochi with grade schools in the Anchorage area, 9,192 miles distant. The children and parents of these Anchorage schools held a variety of fundraising events ― bake sales, art bizarre, raffles ― to raise money for the Mangochi schools. They also launched a pen pal project. The first money was sent over in 2006. The results of these American children have been impressive. Their first priority was to provide the building of latrines (there were none before). Soon they also funded the purchase of chairs and desks for the classrooms, bicycles for the teachers, and even modest housing for the elementary school teachers.
Success encourages more challenges. The village of Nasenga, adjacent to the MCV central campus, was desperate for its own school. The children of Nasenga had to walk miles, sometimes hours, to the nearest elementary school. The Nasenga school committee requested MCV to consider building a new school located nearer its village. The Nasenga community doubled down on their request by making enough handmade bricks for the classroom. Once again the Nighswanders and the people of Anchorage stepped forward. The Saint Mary's Episcopal Church, and their future sister school in Anchorage, Denali Montessori, provided initial funding for the first classrooms at Nasenga. The Malawi government then stepped forward and guaranteed to provide the teaching staff.
In 2010 the new school opened its doors and 200 students walked in. Today the Nasenga School has 700 students. Four teachers from the Denali Montessori School visited and provided training for the Malawi teachers while learning invaluable information about education in Malawi. With the remaining funding, a modest house was built for the school's headmaster. Since that time, this school has been named a "Model Primary School."
One other school in the MCV area has received the "Model Primary School" award. This school, the Mauni Primary School, has partnered with yet another Anchorage school, Chugach Optional School. Because of this partnership, Mauni Primary now has additional classrooms, desks and books, teacher bicycles, teaching supplies, and three teacher's houses.
The improvement of early education for the Mangochi area students has benefitted, of course, both the orphan population and the greater general population of children. It has been a critical component of MCV's vision and dreams.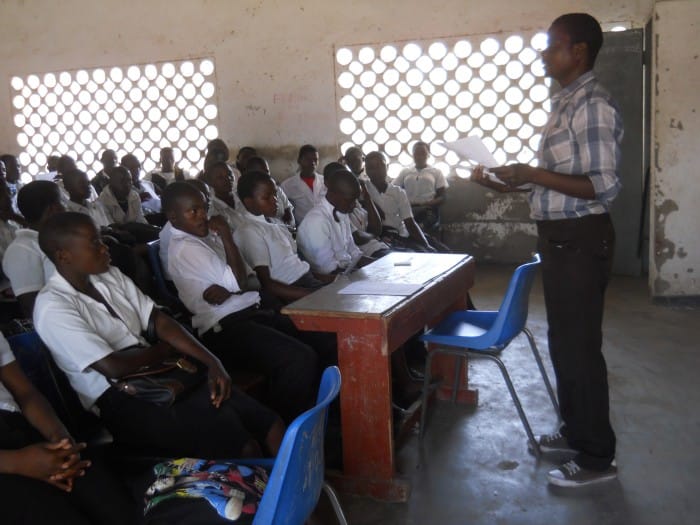 Vocational Training
Just before MCV committed to building a secondary school, it decided the first project should be to establish a vocation training program so that orphans and others could be prepared for a profession. In 2001 the need for a vocational training school on the MCV campus was becoming more and more apparent. The first project was to raise the funds for the vocational training program. The fundraising efforts in 2002-2003 raised enough to build facilities for programs in carpentry, auto mechanics, bricklaying, and welding.
Enough funds were raised to send a large container of vo-tech equipment from Boston, including a table saw, a planer, drill press, hand carpentry tools, motor workshop tools, Gould water pumps, and, additionally, wheelchairs and shoes for orphans. By the end of 2006 the facilities were constructed and there were 20 students taking carpentry, 10 in bricklaying, and 12 in motor vehicle mechanics. The following year there were 36 students in these programs, 22 of whom were being funded by other nonprofit and governmental programs in the country.
In addition, a companion vocational program in sewing was established on the MCV campus. Nettie Graulich, who had spent time in Malawi in the 1960s, began teaching tailoring to orphans and other young villagers. This program was highly successful from the beginning. Not only did the program give employment and training to MCV's orphans, but it began successfully selling its high-quality products including Malawi aprons, hand bags, and personal clothing. In addition, the program contracted to provide school uniforms to primary schools and special smocks for the Malawi hotel industry. This program was successful enough to build its own tailoring program on the MCV campus, complementing the other vocational programs located nearby.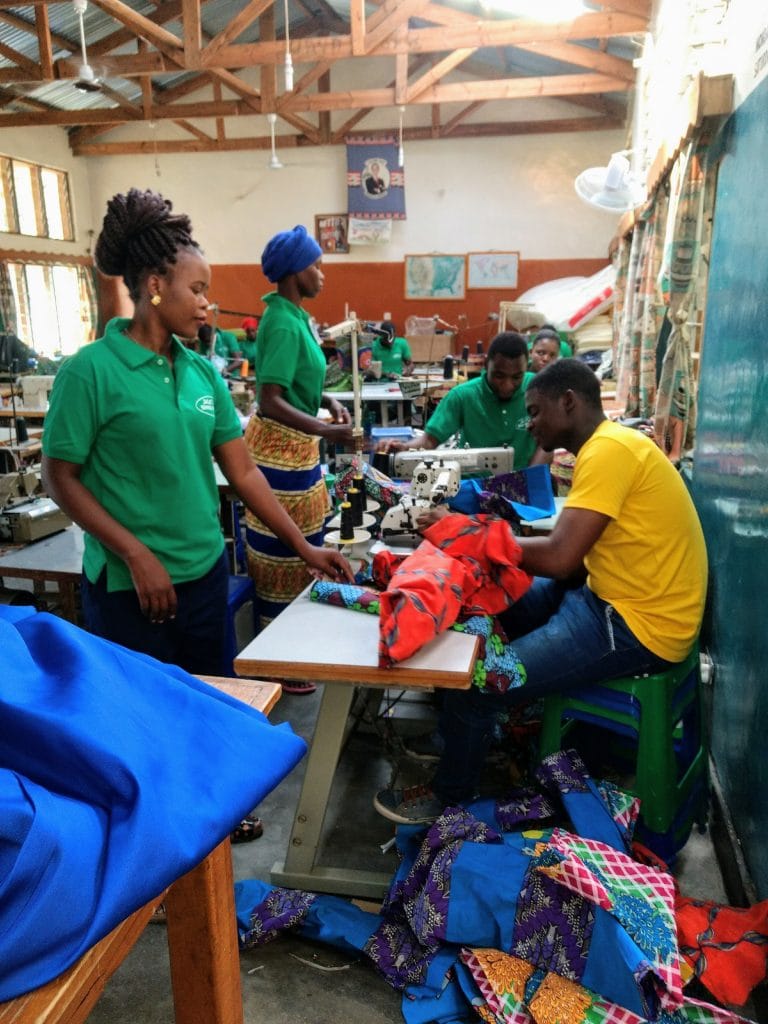 Gracious Secondary School
In Malawi, primary school is free but secondary school is not. In the early years of MCV (1996-2005) the program paid the secondary school fees for all the orphans who qualified to attend the few secondary schools in the Mangochi area. It became clear that there was a need for a secondary school on the MCV campus that would be available for no cost to orphans in the MCV area. The MCV Foundation would fund the fees for all orphans. Each year approximately 20-25 orphans in the MCV area successfully complete primary school. The school would also accept a limited number other students from other locations in Malawi on the normal fee basis.
The MCV Foundation had evolved to have the funding necessary for construction of the school, all done by local Mangochi village builders. The classrooms and labs were modest but reasonably well equipped. A teacher's prep room and headmaster office were included, and a small kitchen was added to serve lunches to the students. In addition, dormitories for men and for women, plus a soccer field were added. All of these buildings and facilities were modest, but by Malawi standards more than adequate.
Construction began in 2004 with funding provided from a variety of sources, including many Alaskan donors and the nonprofit Solace International, which had experience in building girls schools in Afghanistan. The school opened on January 3, 2006. Fifty students enrolled this first year, but MCV still had 83 orphan students enrolled in other boarding schools. That changed rapidly when the early students received excellent passing scores on the mandatory National exams, taken at the end of Form 2 (sophomores) and Form 4 (seniors). One of MCV's original faculty members, Miss Eunice Zikiti, had been a sponsored orphan from the MCV program in boarding school at Malawi's Educational/Teaching College.
The first students from Gracious received excellent passing scores on the national MSCE exams. These results resulted in a rush of nearly all the orphans in the MCV catchment area transferring to Gracious. Word got around the country that Gracious produced high numbers of students passing the MSCE exams. Within the next few years the enrollments increased annually, and today the school's capacity is approximately 400 students, with about a quarter of the students in the "orphan or otherwise vulnerable children" categories.
One of the primary reasons for the Gracious Secondary School's success rate is the quality of the teachers. Excellent teachers produce high quality programs, and MCV did their best to recruit the best and keep them, especially with the continuing student success. In a country where the national pass rate on the national Form 4 MSCE exam system is about a 50% pass rate, Gracious has produced a rate of 90-95% success rate for the past decade.
Good secondary school teachers are difficult to retain in Malawi, and MCV leadership tries to make its good teaching staff content so they will stay. Periodic meetings are held on what the teachers feel is most important to them. Since 2010 the response always had "decent teacher housing" as a primary need on the teachers' "wish list". For the first years of Gracious most of the teachers lived miles away from the school and their transportation was the unpredictable bus/taxi system or bicycles or just walking. It was a real problem. The MCV Board in the USA undertook this need for good housing as a top priority for Gracious, and fundraising began in late 2018. The need is to have 8 duplexes constructed on the MCV property, where the teachers can easily walk to campus. As of November 2021, seven of these duplexes are completed and teacher families have moved in, and the final duplex is well on its ways to being funded. These duplexes are far and away more comfortable and convenient that the normal village home. Each duplex is made with proper cement brick, a metal roof, attached cooking area, comfortable bedrooms and living spaces, a bathroom and all have running water and electricity. Each duplex is adjacent to garden plots. There are few, if any, teacher housing units in rural Malawi that compare.
With this history and current activity in mind, it is clear why Gracious Secondary School is now recognized as one of the outstanding secondary schools in the country.