View All Posts
Gracious Secondary School Student Bio: Beatrice's Story
One of our goals at MCV is to support higher education for orphans and vulnerable children. Currently MCV is supporting:
–124 Students at Gracious School (high school)
–13 MCV orphans are currently sponsored at college/continuing education
–4 special needs students (2deaf and 2 blind) are sponsored.
Here is another example of an amazing and hardworking student at Gracious Secondary School who is supported by MCV.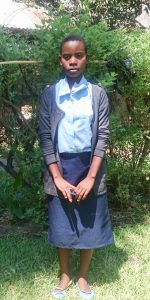 BEATRICE MBELA (Form 4)
I was born in Chiwalo Village at Nkope in Mangochi and I still live there. I am a second born in the family of six children. I have three brothers and two sisters. MCV has helped me in accessing education because my father could not afford to pay for my school fees.
MCV is important to the people in the community in that it helps to pay for school fees and
also medical care for orphans who cannot manage. It also build houses for orphans. Gracious secondary school is a good school with good environment, and hardworking
teachers. I like the school because of this.
On free time, I like playing netball, listening to music, and storytelling with my friends. When I grow up, I want to be a Nurse or a Social worker. I want to help my relatives with
education. –Beatrice
If you would like to donate or learn more about Gracious School, please visit this page.