Gracious, like all secondary schools in Malawi, educates students in forms 1 – 4, the equivalent of grades 9 – 12 in the United States. Gracious currently has two classes per form, comprised of approximately 70 students per class, for a total of of approximately 560 students.
Read below about one of our amazing teachers!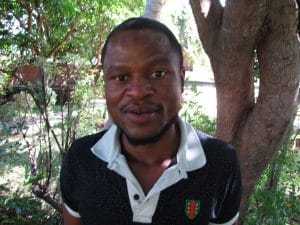 Ellaton Siyabu
'My father died when I was less than a year old. Life became miserable and hopeless for me right from the start. I could go to bed without food and go to school as well with empty stomach. As if this was not enough, I lost my only bread winner (mother) when I was in standard five. At this juncture, life became empty henceforth I started absconding classes. Instead, I engaged in fishing where I was a victim of child labour. At the verge of almost opting to start stealing, an angel came to my rescue and restored the lost hopes. This angel in disguise is what has brought us here-MCV. They registered me as an orphan and promised to handle my education should I became successful. I worked hard and passed primary certificate. MCV took the responsibility of sponsoring my secondary education. While there I studied hard and got selected to Mzuzu University.
I am permanent employee of MCV. I am a secondary teacher. I teach English Grammar and Geography.
Basing on the above information, I owe a huge debt of gratitude.
To the donors and sponsors, I say thanks for your generosity. Your assistance has seen many hopeless orphans including myself achieving impossible dreams. I am who I am because of you. More than thousands of orphans will go to bed full, well-nourished and better off than the night before your coming. Continue your support for you are not doing this in vain. I would be very happy as well if you can go as far as master level.  -Ellaton
To support MCV and learn more, please visit our website.