Missed the 2016 MCV Newsletter in the mail? Read it here on the blog. The Article below was written by Jesse Kwiek and Vincent Sisya. Read more stories from the newsletter here.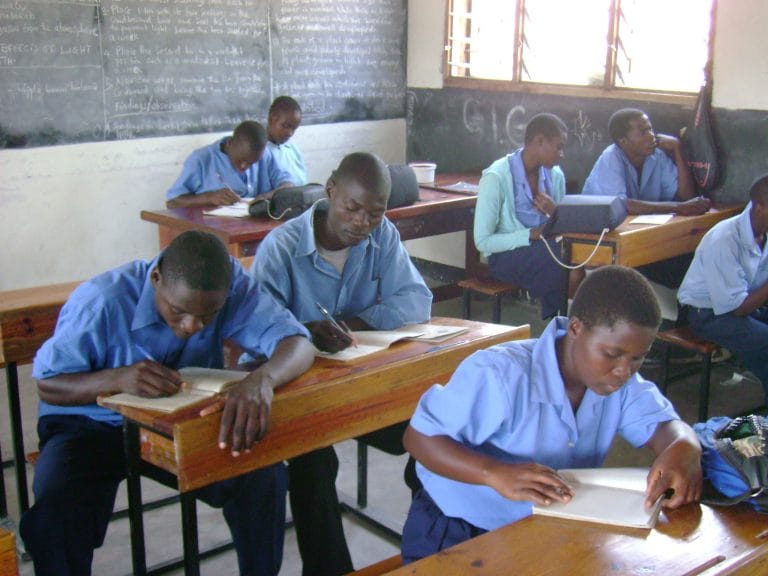 Gracious Students at work
The idea for Gracious Secondary School began in 2000, when 15 orphan students, each of whom was sponsored by MCV to learn in government schools, were unhappy with their learning conditions. They wanted a school with qualified teachers and enough learning materials to obtain a good education. The students expressed their concerns to the Village Volunteers and MCV staff. They bought the concept. Fundraising for the construction of a classroom block started immediately.
In January 2006, Gracious opened its doors with five teachers, and one class of fifty students. Today, ten years later, Gracious has fifteen teachers, six supporting staff, and it offers instruction in Form one (grade 9) through Form four (grade 12). Each Form has two streams, each with an average of sixty students per class.
Gracious is a member of the Independent Schools Association of Malawi (ISAMA) and is registered with the Ministry of Education of Malawi.
Aligning with its mission to serve orphans and other vulnerable children, MCV currently provides school tuition, lunch fees, and school materials for 124 orphan students.
The results from the school have been nothing short of outstanding. In 2015, 86% of Gracious students passed the Malawi School Certificate of Education (MSCE), far exceeding the 55% national pass rate. This success has not gone unnoticed. Mr. Stanford Mangani, the Chipoka Village Volunteer and the chairperson for all Village Volunteers, shares the following:
"The school brought hope to all villagers because orphans and their children are able to get a good education which shapes their future. We are grateful for the school, and as a community, we will continue to take care of it."
Although Gracious has excelled, it can still be better. The school currently lacks a dining hall, there is insufficient housing available to the teachers, and with a new curriculum, Gracious needs to buy new books. Mr. Raymond E. Kapito, the Head Teacher observes:
"The academic performance of students is improving every year. However, for the school to achieve its vision, we need your continued support. We strive to make Gracious Private Secondary School one of the best schools in Malawi and to send many of our students to universities and college."