By Kaylin Zimmer
The first time I heard about Malawi was while I was at Chugach Optional Elementary when Madelyn, the nurse, gave a presentation on a recent trip she had taken. From that point on, Malawi had a special place in my heart. Chugach built a relationship with a school in rural Malawi, and my girl scout troop #461, began what was known as "art night", when students and parents would make art to auction as a fundraiser for our sister school. When I graduated from the school in sixth grade, I never expected to get to visit Malawi, not to mention the school that I had helped raise donations for.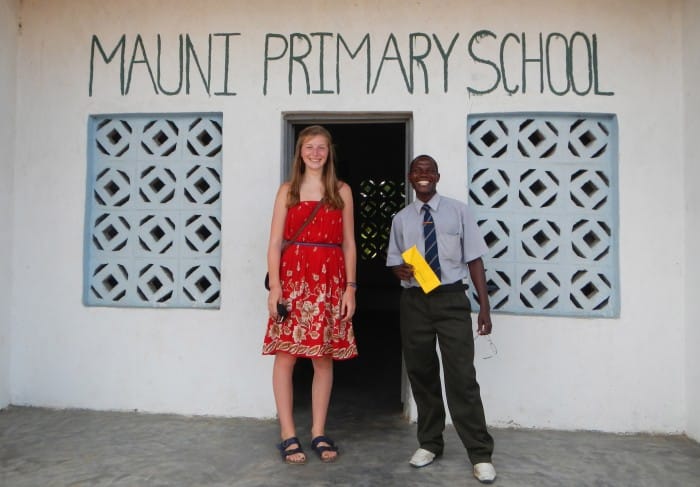 Six years later, I did have that opportunity. While I was in the Early Honors program at Alaska Pacific University, I learned of a trip that was happening through the psychology department that was going to Malawi for the month of January. I was immediately interested. After years of thinking of Malawi as some distant country that I had only ever heard about, I was finally going!
When I arrived some things were just as I had imagined, while others were very different. Malawi lives up to its nickname: The warm heart of Africa. It's a beautifully lush country with  amazingly happy people.
Upon our arrival to the village near where we stayed, the local children chased our truck, yelling "Azungu, Azungu" the Chichewa word meaning "white person". They followed after us, waving as we passed through the gates of our inn. Our day trips into the town of Mangochi were very enlightening. We were exposed to the extreme poverty of the country. Even in the town, the roads were unpaved and most of the people were clothed in raged cloths. We took matolas from place to place, at times 25-30 people crammed into the back of a pick up truck, along with an assortment of produce, livestock, and the occasional bed frame. As a group of 10 students, we enjoyed the daily adventure of fitting into a truck bed that looked as though it had room for two.
When we didn't take trips into town, we went to MCV and Open Arms next door. At MCV's Gracious Secondary School, we got to sit in on some of the classes, and interact with students through a dance class that one of our students taught, and a women's empowerment group that another led. We got to talk to the girls at the school about how they felt growing up in Malawi, and what they wanted to do with their futures versus what was expected of them. It was both inspiring and saddening to hear what their goals were, as we knew from the information we had gathered that few of them would have the chance to leave Malawi to further their education.
My trip to Malawi brought my education full circle when I had the opportunity to visit Chugach's sister school, Mauni Primary. The principal showed me the building that our funds had built and the classrooms that had replaced the classes which had previously been taught under the tree in the school yard. My trip was both interesting and rewarding, and I am unendingly grateful to have had the opportunity to visit.
The work continues:
While Kaylin Zimmer's class has long since left, Chugach Optional Elementary and other schools in MCV's School-to-School program continue to raise funds for primary schools that the children supported by MCV attend. Just last month, Teacher Housing was completed at Mauni Primary.
More schools are in need of support. Is your school interested in starting a new partnership? Contact us.