In case you missed it, here is an amazing fundraising story that was published in our recent newsletter.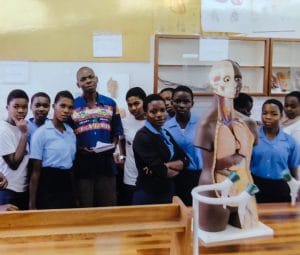 Above: The Women's Empowerment Club visits a local nursing school.
Three students, in the span of six weeks, generated a total of $50,000 for MCV's scholarship initiative, the women's empowerment program, and the feminine hygiene project. Wow!
This last year, Caroline Matkom, a student at UW-Madison and a member of the student club, Project Malawi, became interested in helping MCV. She met with several MCV board members to see what was needed at MCV. She and her student colleagues submitted a proposal to UW's Philanthropy Lab class, which gives annually to nonprofits. The MCV project received a $15,000 grant that will be used to empower young women through the distribution of reusable feminine hygiene products to the girls at MCV's Gracious Secondary School.
Caroline and her student colleagues, Eric Malamud and Calli Hughes, were then invited to submit a proposal to the national Philanthropy Lab competition. Their proposal allowed MCV to receive another grant of $25,000. This grant will be used to provide scholarships for postsecondary education (college, technical schools, etc). Finally, Caroline submitted another proposal to the national Panhellenic Council and was awarded a $10,000 grant! This one will enhance the feminine hygiene project. Thanks to Caroline, her student colleagues, the Philanthropy Lab organization, and the Panhellenic Council for supporting MCV.
To see more of the newsletter, follow this link:  2018 Newsletter
For updates on this amazing project, visit our website!