Are you inspired to do more to help MCV? We're happy to announce that you can now run your very own fundraisers on the new MCV website.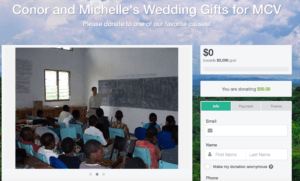 Your custom webpage will be designed specifically for your fundraiser. The set up is simple and you can help choose the photos and text. You can even add videos if you'd like. The donations will be routed directly to MCV so all gifts will remain tax deductible.  My partner and I have set up our new donation page to collect donations as an alternative to asking for wedding gifts.
Hosting a fundraiser at a school? Running a race for MCV? Want to add MCV to your wedding registry? Contact us and we can get you set up today with your very own webpage.